AKOURA to YANOUH Darb El ANAJIL on Sun, Jul 10, 2022 with DALE CORAZON – LEBANON EXPLORERS
July 10 @ 7:30 am

-

4:30 pm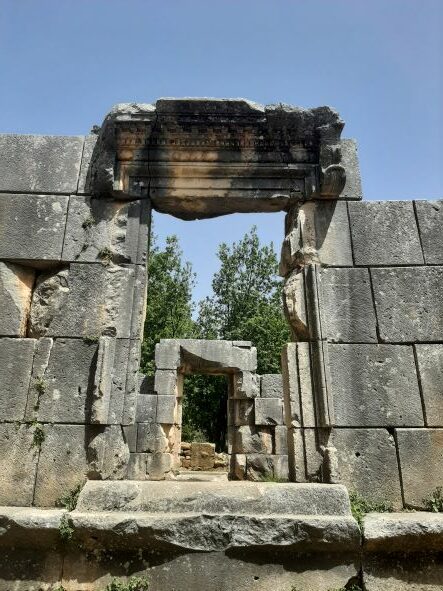 Hiking Trip to AKOURA – YANOUH Village with DALE CORAZON – LEBANON EXPLORERS
Trail by DALE CORAZON – LEBANON EXPLORERS
New Trail: Darb El-ANAJIL (Rabola) – First Aramic Inscription in Lebanon – El Ozor Trail
This time we will enjoy a hike with a special combination: Aqoura – Yanouh, a trail of our ancestors (New Trail, it's Really a Treasure), perfect weather conditions, and beautiful peaceful scenery.
HIKE LOCATION : Akoura – Yanouh/Byblos District ============ 1450 – 1150 meters above sea level, 69 km from Beirut.
WHEN : Sunday, July 10, 2022
=====
ENCOUNTER PLACE : Mar Maroun Church Parking, Dora @ 7:30 AM
===============
Driving directions to Mar Maroun https://dalecorazon.com/contact/
Or Martyrs Square at Al-Nahar Bldg., Beirut Downtown @ 7:10 AM
FEES:
====
270,000 LL/person or 10 $ including transport, professional guides, 5 minutes of warming up, stretching, and pictures.
Children 18 years old and younger will have a discount of 10%. (245,000 LL/person)
Make your group of 4 persons (& more) and get a 10% discount (245,000 LL per person).
DESCRIPTION OF THE EVENT:
=========================
Join us and hike along the down part of the west mountain chain "Jabal el Mnaitra" in Akoura & Yanouh villages!
Akoura contains old historical churches, Saydet el Habs and a road that dated back to the Roman Empire. A huge panoramic breathtaking view and even the sea can be seen when weather conditions are especially good. It is not to be missed.
Yanouh, once a Phoenician center, is halfway between Byblos and Baalbek, their Phoenician temple, is a monument to the same religion as that of Apheca, but the later Roman temple was dedicated to Diana, the Roman goddess of the hunt and daughter of the god Jupiter.
Yanouh is known for its 2nd century CE Roman temple, its Byzantine basilica, and medieval chapel. In 750 AD, at the time of the fifth Maronite patriarch, John Maron II, then installed in Yanouh, the Roman temple was converted into a church consecrated to Saint George The blue. Between 750 and 1277, twenty-three successors of Patriarch John Maroun resided there; under the Crusades, the number of Yanouh's inhabitants had risen to 3500, Yanouh is also notable for its Hellenistic cult building containing the earliest Aramic inscription found in Lebanon. it mentions a "House of God" and was dated to around 110-109 BCE.
Tell el Kharayeb ("Hill of Ruins") remains in Yanouh date back to the third millennium BCE; these include a town of about 150 meters in diameter, surrounded by a defensive wall and a lower urban quarter extending towards the south of the site.
HIKING LEVEL. 1 to 3 for easy, 4 to 6 for intermediate, 7 to 9 for strenuous
Our hike will be divided into 3 levels.
This hike is easy for LEVEL 6 and is about 12 km long. The hike starts at Akoura village, the trail is mostly straight and uphill at the beginning, straight in the middle, and descendent and straight at the end. You will visit many ancient historical churches, Mar Saba, Mar Geryes, Mar Botros, Mar Semaan (Roman temple), and the Roman road. You will visit Saydet el Habs located upon the peak overlooking marvelous views like in Harissa, you will get the feeling of being on top of the world! Then you will descend a staircase of 600 steps and walk through an apple orchard, then head to the Ozor forest of Mar Edna. We will have lunch there, later will visit the ancient nun's monastery and descend a Phoenician Roman dirty road and walk through an apple orchard, to reach the Ozor forest of Tell El Kharyeb. There will meet with the level 4 and will explore the Phoenician, Greek, and Roman Temples and the ancient Saydet Yanoun Church ام الله.
LEVEL 4, is about 8 km long. The same trail as level 6 but after visiting the ancient nun's monastery, will separate and will join by bus the other at Yanouh Temples and will explore our treasure.
If you prefer an easier hike LEVEL 3, you have the possibility to stay at Saydet el Habs after the visit so you will have enough time to contemplate charming horizons at this altitude and you will have lunch there. Then you will descend a staircase of 600 steps and then by bus will explore Yanouh village.
Being there is like going back to our grandparents' roots, experiencing the true rural life.
Protect yourself and others around you by knowing the facts and taking appropriate precautions:
Distancing from each other is a must.
Cover your nose and mouth with your face masks. To keep it on, while we are on the bus.
Clean your hands often by using hand gel or other.
WHAT TO TAKE:
============
Healthy snacks that will boost your energy include dried fruits, lunch, water, MEDICAL FACE MASKS, HAND GEL, cap, sunglasses, and sunscreen. Wear comfortable walking shoes (A professional brand is recommended) and don't forget to get a light jacket. DC members get a 20% discount on sports equipment in Sports 4 Ever branches.
==There will be a breakfast stop along the way==
FOR RESERVATION AND INFO:
=======================
Please Call 00961-70-986118 / 00961-70-997062 and send an SMS or WhatsApp to mention your name, surname, and the event you wish to join us on.
NOTE:
=====
Thank you for not smoking during the trip and following all the ecotourism rules including safety regulations (hikers are advised to join our events to their own responsibility). And occasionally, due to reasons beyond our control, slight modifications to the event may occur.
You can join our group on Facebook: Dale Corazon – Lebanon Explorersيلا يا قلب (group) and https://www.facebook.com/dalecorazonleb (Page)
Instagram: dale.corazon.leb.explorers
YouTube: Dale Corazon – Lebanon Explorers
Best Regards,
Dale Corazon – Lebanon Explorers