JAHLIEH – Hiking & Swimming on Sun, May 29, 2022 with DALE CORAZON – LEBANON EXPLORERS
May 29 @ 7:30 am

-

3:30 pm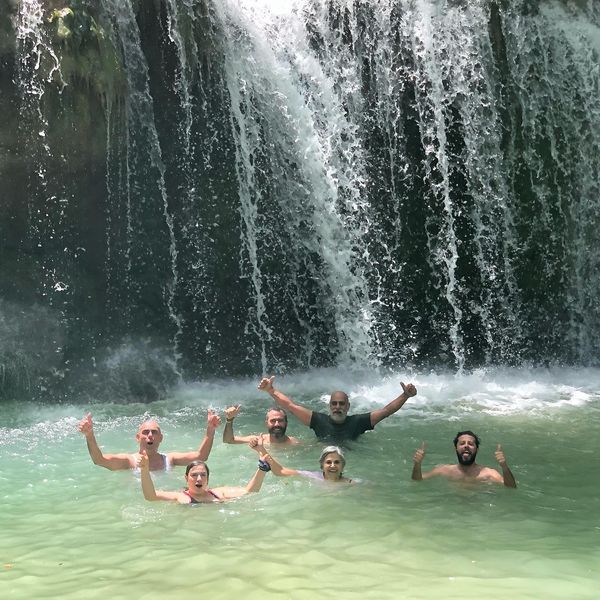 Darb El Horsh – Darb El Nahr at Jahlieh village
Hiking and Swimming at JEHLIEH with DALE CORAZON – LEBANON EXPLORERS!!!
It's Summertime!! and what better time to go hiking, swimming, and explore Lebanon's amazing mountains, green flowery scenery, and sparkling Lakes!! The magnificent green forest mixed with oak, pine, and many other plant species makes the valley one of the best in Lebanon.
HIKE & SWIM LOCATION : Jahlieh / Shouf / Mount Lebanon.
=================== 300 – 450 meters above sea level, 35 km from Beirut.

WHEN : Sunday, May 29, 2022
=====
ENCOUNTER PLACE : Mar Maroun Church Parking, Dora @ 7:30 AM
===============
Driving directions to Mar Maroun https://dalecorazon.com/contact/
Or Martyrs Square at Al-Nahar Bldg., Beirut Downtown @ 7:45 AM
FEES:
====
250,000 LL/person including transport, professional guides, 5 minutes warming up, stretching, and pictures.
Children 18 years old and younger will have a discount of 10%. (230,000 LL/person)
Optional transportation by your own vehicle 190,000 LL/person
Make your group of 4 persons (& more) and get a 10% discount. (230,000 LL per person).
There is an extra 10.000 LL entrance fee to the river.
Cancellations with less than 24 hours' notice will be charged in full amount.
DESCRIPTION OF THE EVENT:
======================
Jahlieh area is paradise on earth, very beautiful trail especially the part by the river. Plenty of ponds and waterfalls span.
The valley offers a varied landscape and it's considered one of the most enchanting for hiking in the Shouf district.
HIKING LEVEL. 1 to 3 for easy, 4 to 6 for intermediate, 7 to 9 for strenuous
Level 4 (9 km, approx. 3:30Hr) will start from the village near the water source and take the path up into the forest, then in the middle of Darb El Horsh passing through trees and bushes where the views are remarkable. The trail will lead you to the old caves where will stop. Then will continue straight to the riverbank near Ain El Yasmin for lunch, relax under the shade of the trees and enjoy the sound of water. We will continue back along a trail Darb el Nahr offering many scenic spots, and leading to many lakes, waterfalls, and old mills. From there will head to the bus.
Parts of this trail are manmade using wooden logs.
Protect yourself and others around you by knowing the facts and taking appropriate precautions:
Distancing from each other is a must.
Cover your nose and mouth with your face masks. To keep it on, while we are on the bus.
Clean your hands often by using hand gel or other.
WHAT TO TAKE:
============
Healthy snacks that will boost up your energy such as dried fruits, lunch, water, MEDICAL FACE MASKS, HAND GEL, cap, sunglasses swimsuit, towel, and sunscreen. Wear comfortable walking shoes (A Professional brand is recommended) and don't forget to get a light jacket. DC members get a 20% discount on sports equipment in Sports 4 Ever branches.
==There will be a breakfast stop along the way==
FOR RESERVATION AND INFO:
=======================
Please Call 00961-70-986118 / 00961-70-997062 and by sending an SMS, or WhatsApp mentions your name, surname, and the event you wish to join us on.
NOTE:
=====
Thank you for not smoking during the trip and following all the ecotourism rules including safety regulations (hikers are advised to join our trips to their own responsibility). And occasionally, due to reasons beyond our control, slight modifications to the event may occur.
You can join our group on Facebook: Dale Corazon – Lebanon Explorersيلا يا قلب (group) and https://www.facebook.com/dalecorazonleb (Page)
Instagram: dale.corazon.leb.explorers
YouTube: Dale Corazon – Lebanon Explorers
Best Regards,
Dale Corazon – Lebanon Explorers