WADY HARBA Hike & Swim – St. Valley on Sun, Aug 08, 2021 with DALE CORAZON – LEBANON EXPLORERS
August 8 @ 7:30 am

-

4:30 pm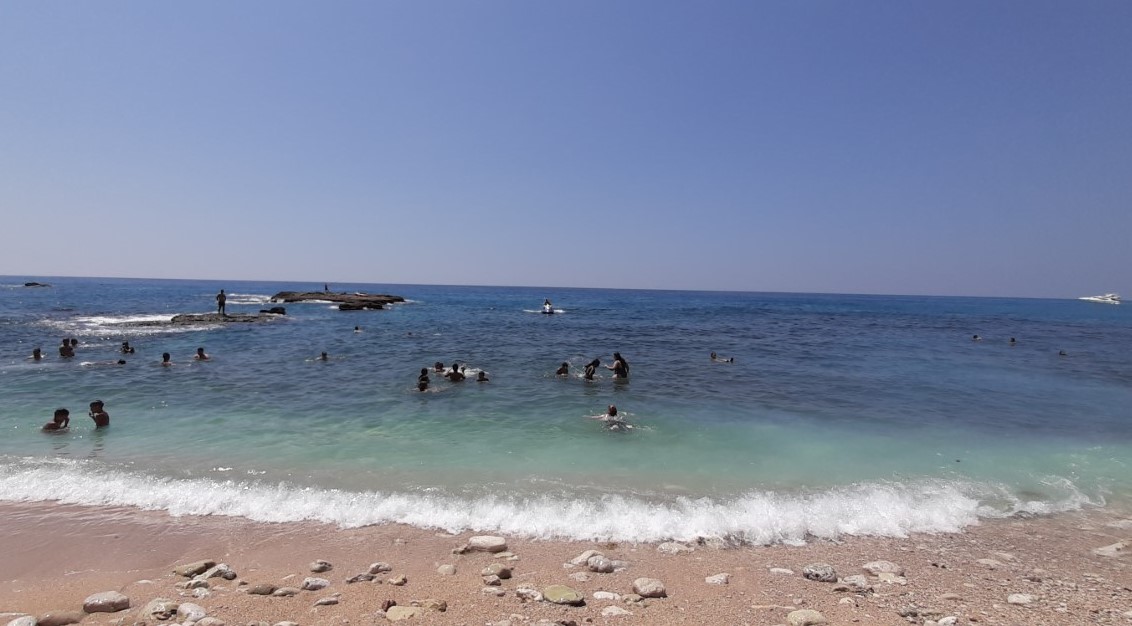 Hiking & Swimming at Wady Harba St. Valley JRABTA-MADFOUN with DALE CORAZON – LEBANON EXPLORERS!
Come and experience the pleasant moments of hiking along the bank of "Harba valley or Darb Rafqa" and swim in the marvelous Mediterranean Sea. The Saint valley, the cave churches, the ruins, and the magnificent green forest mixed with oak and many other plant species makes the valley one of the best in the area.
The hidden treasures and beauty of Lebanon are yet to be unveiled.
HIKE & SWIM LOCATION : Smar Jbeil – Jrebta – Madfoun / Batroun / In the North
=================== 0-450 meters above sea level, 3 km from Kfifan.

WHEN : Sunday, August 08, 2021
=====
ENCOUNTER PLACE : Mar Maroun Church Parking, Dora @ 7:30 AM
===============
Driving directions to Mar Maroun https://dalecorazon.com/contact/
FEES:
====
75,000 LL/person or $3.5/person including transport (Open windows), professional guides, 5 minutes warming up, stretching, and pictures.
Children 18 years old and younger will have a discount of 15%. ($3 per person or equivalent in LBP as per the market rate)
Optional transportation by your own vehicles. ($2.5 /person)
Groups of 5 and plus get a discount of 15%/person ($3/person)
DESCRIPTION OF THE EVENT:
=========================
This hike is wonderful. Our journey will start in Smar Jbeil. This name is the derivate of the Phoenician language, which means "the guardian of Jbeil".
We will visit a historical church "Al Sayde" (Ste Mary) built in the 6th Century, and the citadel of Smar Jbeil dates back to the Phoenician era. After the visit, will take the bus to St. Rafqa Monastery, visit the convent and the museum. The hike will be in Jrabta village at Wadi Harba, the trail is filled with ancient cave churches, ruins, and where the Saints walked like (first Patriarch Saint John Maron, St. Rafqa, St. Hardini…).
At the end of the trail, we will benefit from a swim in the Mediterranean Sea with clean transparent water as well.
As usual, there will be two levels of difficulty.
HIKING LEVEL. 1 to 3 for easy, 4 to 6 for intermediate, 7 to 9 for strenuous
Level 3: An easy walk (8 km, approx. 3:00Hr) with very light descents. It is ideal for picture taking. The walk will take place at ''Darb St. Rafqa'' or'' wadi Harba''. At the end of the trail, will benefit from a swim in the clean transparent water as well.
Level 5: About (11km, approx. 3:30Hr) This level is strictly for advanced walkers; long delay is not an option.
After reaching St Rafqa in Jrabta, we will hike in a pine forest to reach a small church in the middle of the mountain surrounded by trees, crossing an old spring.
After visiting the forest, will continue walking together in a stretch way to Harba valley. We will cross the first Patriarch Saint John Maron (685 A.C.) spring and historical caves Church, in wild nature. Afterward, will continue together along a trail offering many scenic spots and leading to the beach where we will swim and have fun there. From there we will head up to the bus.
Photos shall be taken on the move or when we stop for a break.
We promise you a very good & joyful hike; don't hesitate to book yourself for this event. You will fell in love with these sites.
Protect yourself and others around you by knowing the facts and taking appropriate precautions:
Distancing from each other is a must.
Cover your nose and mouth with your face masks. To keep it on, while we are on the bus.
Clean your hands often by using hand gel or other.
WHAT TO TAKE:
============
Healthy snacks that will boost up your energy such as dried fruits, lunch, water, MEDICAL FACE MASKS, HAND GEL, cap, sunglasses swimsuit, towel, and sunscreen. Wear comfortable walking shoes (A professional brand is recommended) and don't forget to get a light jacket. DC members get a 20% discount on sports equipment in Sports 4 Ever branches.
==There will be a breakfast stop along the way==
FOR RESERVATION AND INFO:
=======================
Please Call 00961-70-986118 / 00961-70-997062 and by sending SMS, or WhatsApp mentions your name, surname, and the event you wish to join us on.
NOTE:
=====
Thank you for not smoking during the trip and following all the ecotourism rules included safety regulations (hikers are advised to join our trips to their own responsibility). And occasionally, due to reasons beyond our control, slight modifications to the event may occur.
You can join our group on Facebook: Dale Corazon – Lebanon Explorers يلّا يا قلب (group) and https://www.facebook.com/dalecorazonleb (Page)
Instagram: dale.corazon.leb.explorers
YouTube: Dale Corazon – Lebanon Explorers
Best Regards,
Dale Corazon – Lebanon Explorers
Info:
The Castle (citadel) was built in the center of the village (Samar Jbeil), on a hill showing the entire neighborhood. Most of the historians recognize that the castle was built by the Phoenicians, and was under the Persian Empire's control in 555 B.C.
It passed to the hands of Alexander of Macedon's (the Great) in 331 B.C. In the Middle Ages, the Maronites and their army the Maradaites took the castle as a refuge and it was the Seat of the First Maronite Catholic Patriarch Saint John Maron before he moved to Kfarhay.