Wet Hiking to the Hidden Gems of JHANNAM VALLEY on Sun, Sept 24, 2023 with DALE CORAZON – LEBANON EXPLORERS
September 24 @ 7:30 am

-

5:00 pm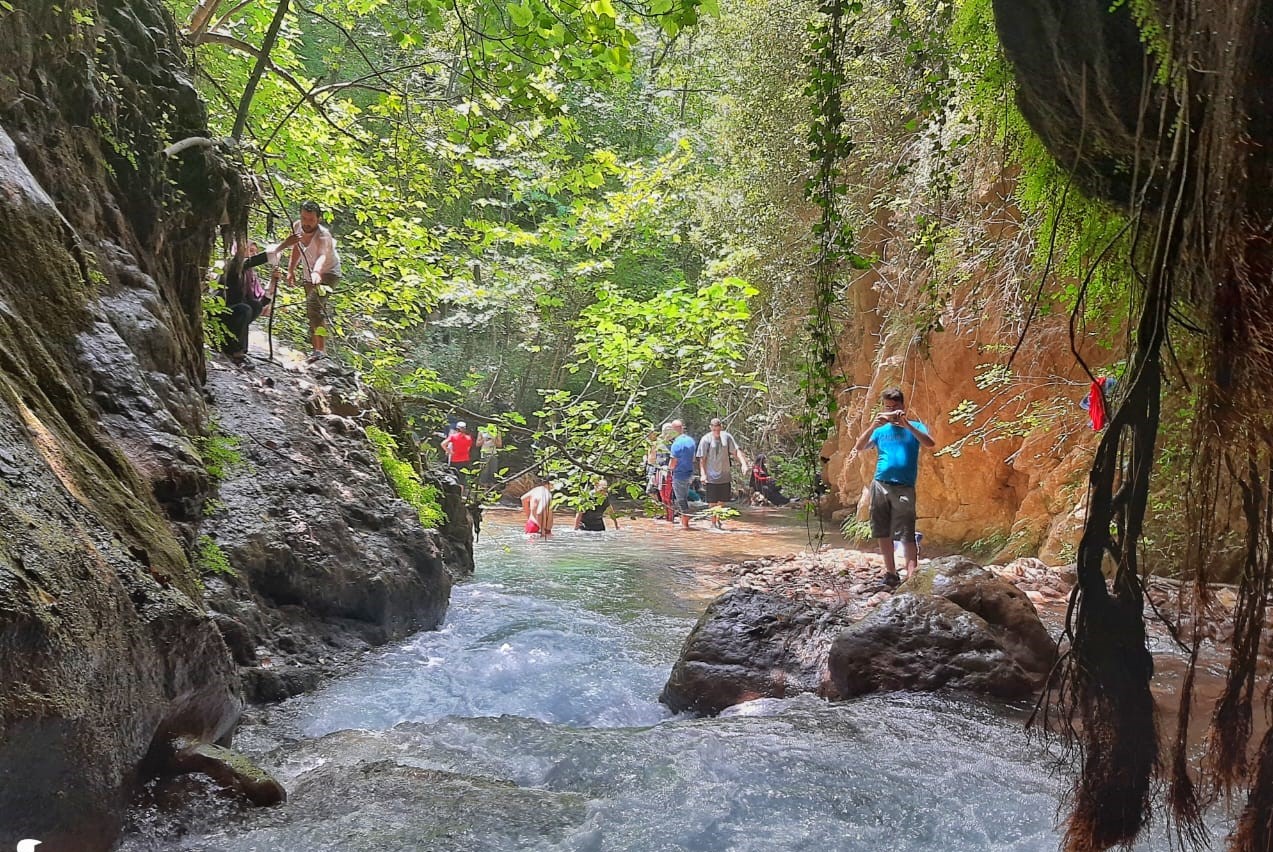 River Crossing Hike to Jhannam Hidden Caves & Waterfalls with Dale Corazon – Lebanon Explorers!!!
New Trail – New Experience at wadi Jhannam with the possibility of bathing in the river
HIKING LOCATION : Ouady Jhannam Hrar/Akkar – Donniyeh/
============== In the North 25 km from Tripoli
WHEN : Sunday, September 24, 2023
=====
ENCOUNTER PLACE : Mar Maroun Church Parking, Dora @ 7:30 AM
===============
Driving directions to Mar Maroun https://dalecorazon.com/contact/
Or Martyrs Square at Al-Nahar Bldg., Beirut Downtown @ 7:10 AM
Be ready
FEES:
=====
15$ person or including transport (comfortable air-conditioned Pullman), professional guides, and pictures.
Children 18 years old and younger will have a discount of 10%. (13.5 $ per person)
Optional transportation by your own vehicle. (12 $person)
Groups of 5 and plus get a discount of 20%/person (13.5/person)
(Please if you can get the exact change to speed up the registration).
WET HIKING DESCRIPTION:
=====================
It's one of the most beautiful hikes that will leave wonderful pictures in your memory. It has an Excellent Ecological Environment Filled with Woodlands, Orchards, and Groves.
HIKING LEVEL. 1 to 3 for easy, 4 to 6 for intermediate, 7 to 9 for strenuous.
Hrar is a wonderful place for hiking;
LEVEL 4 (around 3 hours) is uphill and straight beautiful trail. Will start from the main road and ends at Chellalat El Jennieh. We will experience the fascinating Lebanese wild nature with its colorful trees and herbs, chirping birds, fresh breeze, and rushing water. The scenery is really beyond description, there the Hidden Caves & Waterfalls. We will have enough time for meditation, swimming, photo shooting and fun. No need to know how to swim in this trip. But for those who like, we will enjoy swimming in a very beautiful natural pool.
We will have lunch together beside the river, rest a bit, and then continue to the Bus.
Be careful, you will get wet, make sure you have extra pair of shoes and extra clothes with you when you join us in this trip.
Whitewater is an outdoor sport that seduces nature-oriented people as well as seekers of the ultimate.!
WHAT TO TAKE:
============
Healthy snacks that will boost up your energy such as dried fruits, lunch, water, cap, sunglasses, sunscreen, towels, swimsuits and toilet essentials. Don't forget to get your Lebanese ID or passport. DC members get a 20% discount on sports equipment in Sports 4 Ever branches.
==There will be a breakfast stop along the way==
Extra Info:
The minimum age is 7 years.
FOR RESERVATION AND INFO:
=======================
Please Call 00961-70-986118 / 00961-70-997062 and by sending SMS, or WhatsApp mentions your name, surname, and the event you wish to join us on.
NOTE:
=====
Thank you for not smoking during the trip and following all the ecotourism rules including safety regulations. (Hikers are advised to join our trips to their own responsibility). And occasionally, due to reasons beyond our control, slight modifications to the event may occur.
You can join our group on Facebook https://www.facebook.com/groups/dalecorazon/ (group) and https://www.facebook.com/dalecorazonleb (Page)
Instagram: https://www.instagram.com/dale.corazon.leb.explorers/#
YouTube: https://www.youtube.com/results?search_query=Dale+Corazon+-+Lebanon+Explorers
Best Regards,
Dale Corazon – Lebanon Explorers