Rafting at ASSI RIVER on Sun, June 26, 2022 with DALE CORAZON – LEBANON EXPLORERS
June 26 @ 7:30 am

-

6:00 pm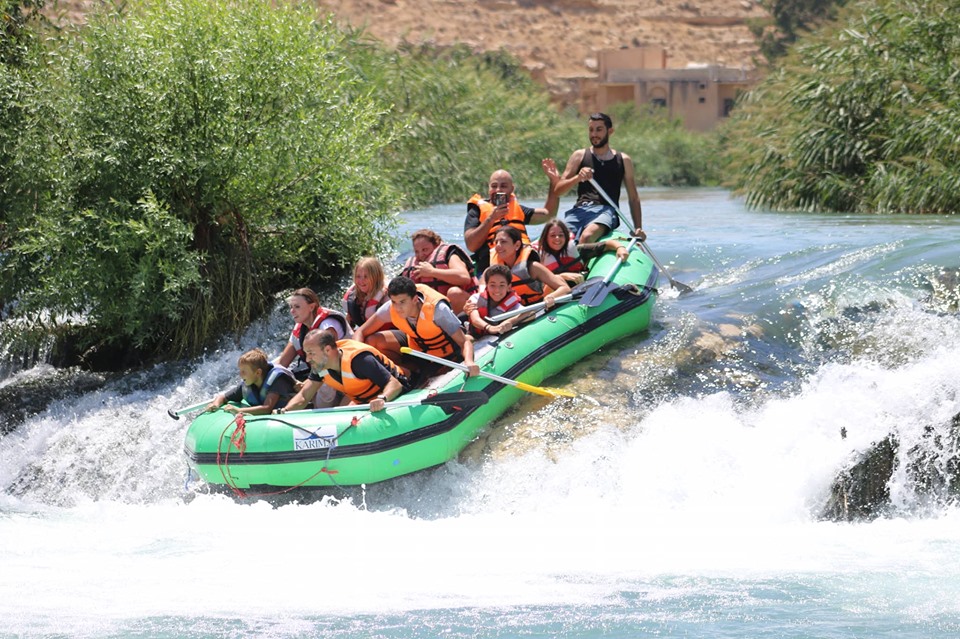 Rafting with Dale Corazon – Lebanon Explorers!!!
This summer is hot and we should refresh ourselves, so we choose to make rafting in Hermel, where the Al-Assi River offers enough water depth all year round.
RAFTING LOCATION : Assi River / Hermel District / Beqaa
============= 600 meters above sea level, 140 km from Beirut.
WHEN : Sunday, June 26, 2022
=====
ENCOUNTER PLACE : Mar Maroun Church Parking, Dora @ 7:30 AM
===============
Driving directions to Mar Maroun https://dalecorazon.com/contact/
Or Martyrs Square at Al-Nahar Bldg., Beirut Downtown @ 7:45 AM
FEES:
====
299.000 L.L./person includes transport, professional guides, and pictures.
Children 18 years old and younger will have a discount (280.000 L.L. per person)
Optional transportation by your own vehicle. 200,000 LL/person
Groups of 5 and plus get a discount of 10%/person (280,000 LL per person)
250,000 L.L./person includes rafting gear, raft ride, an instructor, and pictures.
Optional you can take your lunch special fish in the local restaurant with 250,000 L.L. (Please if you can get the exact change to speed up the registration).
RAFTING AND TOUR DESCRIPTION:
=============================
The name Hermel comes from the word 'Haram Eil' (Al Amou3), and its means "Pyramid of King Eil". The Hermel Pyramid is 27 meters high, built-in 175 BC, and stands at the highest point of the Beqaa Valley.
Our rafting will start from the new camping site and ends at the Dardara Falls, you will engage in a ride through breathtaking scenery; you will follow the white stream and cross 3 waterfalls that will pump high your adrenaline. Be careful, for you will get wet! On the raft, wear your swimsuit with a T-shirt. Leave your cameras and phone on your bus. It's amazing rafting!!!
Our special lunch (trout and region specialties), will be in the camps near the river in a beautiful garden facing the river, it's very important to support all the people in the villages, but optional you can bring your lunch.
In our return to Beirut, we will visit some landmarks like Deir Mar Maroun "Castel 200 B.C.", Hermel Pyramid and the source of Al-Assi River "Nabaa al-Zarka", you can take a lot of unforgettable pictures.
Diversified? Yes! You will encounter a lot of things at this event!
Protect yourself and others around you by knowing the facts and taking appropriate precautions:
Distancing from each other is a must.
Cover your nose and mouth with your face masks. To keep it on, while we are on the bus.
Clean your hands often by using hand gel or other.
WHAT TO TAKE:
============
Healthy snacks that will boost up your energy such as dried fruits, lunch, water, MEDICAL FACE MASKS, HAND GEL, cap, sunglasses, sunscreen, towels, swimsuits and toilet essentials. Don't forget to get your Lebanese ID or passport. DC members get a 20% discount on sports equipment in Sports 4 Ever branches.
==There will be a breakfast stop along the way==
Extra Info:
Changing rooms and showers are available.

Professional rafting guide, neoprene suit, neoprene jacket, helmet, paddles, plus all equipment necessary for a fun and safe trip.

The minimum age is 8 years.
FOR RESERVATION AND INFO:
=======================
Please Call 00961-70-986118 / 00961-70-997062 and by sending SMS, or WhatsApp mentions your name, surname, and the event you wish to join us on.
NOTE:
=====
Thank you for not smoking during the trip and following all the ecotourism rules including safety regulations. (Hikers are advised to join our trips to their own responsibility). And occasionally, due to reasons beyond our control, slight modifications to the event may occur.
You can join our group on Facebook: Dale Corazon – Lebanon Explorersيلّا يا قلب (group) and https://www.facebook.com/dalecorazonleb (Page)
Instagram: dale.corazon.leb.explorers
YouTube: Dale Corazon – Lebanon Explorers
Best Regards,
Dale Corazon – Lebanon Explorers